Donut 4523
Beagle/Lab
Male
Medium (20-50 lbs)
Status: Adopted
Beagle/Lab
Male
Medium (20-50 lbs)
Status: Adopted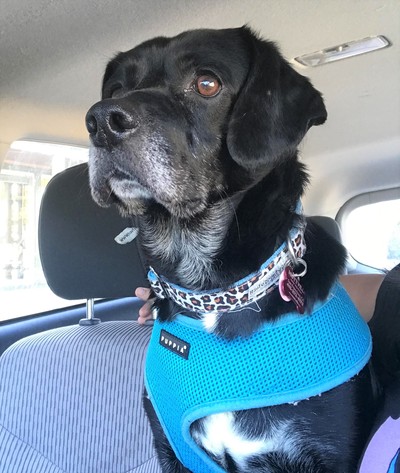 Meet Donut! This adorable Beagle/Lab mix came to us all the way from Fresno after being taken from a hoarding situation. Donut settled right in and is enjoying all the new attention! He likes meeting new dogs and is friendly towards all our current residents. He is still coming out of his shell and showing his playful side more and more each day. Donut enjoys going for walks and hanging out with his doggy friends. We know he will make an awesome companion!
Donut is about 7-10 years young and is the perfect medium size of 35 pounds.
Watch Donut hanging with Bagel, then on a walk
Here is what Donut's foster has to say:
He is friendly & curious but takes some time to warm up, he is a nervous guy. He does enjoy being pet. Donut is low activity, walks about 15 minutes and does OK on the leash. He is low maintenance in the home. Donut is not dog reactive but does like his food to himself. He has been fine with our household dogs, and likes to spend his time with Bagel. Donut startles easily. Donut needs housetraining, he's had a few accidents inside the home. Donut is interested in squeaky toys. He is very gentle and has the sweetest eyes. He likes to be pet, and is gradually gaining confidence in a home setting.
We're delighted to report that Donut is currently in a loving and caring home. Thanks to all the wonderful friends of Muttville who helped to make this happen.