Donald 4311
Pug Mix
Male
Small (6-20 lbs)
Status: Adopted
Pug Mix
Male
Small (6-20 lbs)
Status: Adopted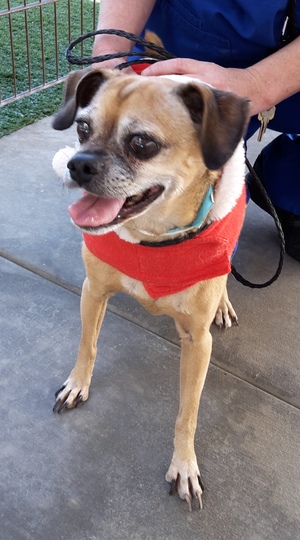 Meet Donald This sweet and spunky Pug mix was found as a stray in Southern California. Lucky for him, he is now at Muttville and loving life! This happy-go-lucky guy enjoys making new friends and gets along well with dogs of all sizes. He is friendly, outgoing, and will make a wonderful companion. Donald's favorite activities are going for long walks, sunbathing, and meeting new people (especially if they have snacks!).
Here's what Donald's foster has to say about this special boy:
"Donald is a very sweet dog who spends most of his time snoozing. He enjoys a short to moderate walk. He gets scared sometimes – like if it is raining very loudly or if he sees his reflection in a window :) – and loves to be held and petted. Donald is SUPER cute. He loves to cozy up on a small pillow, a pile of clothes left on the floor, or anything else that seems comfy. The cutest place we ever found him napping was in our coat closet on a pile of coats that had not been hung properly. He was adorable and he was in heaven! He wears a belly band in the home to help with housetraining."
Donald is about 11 years young and weighs 15 pounds.
Meet Donald and watch some of his Muttville activities
We're delighted to report that Donald is currently in a loving and caring home. Thanks to all the wonderful friends of Muttville who helped to make this happen.