Dominic 7664
Terrier/Chihuahua Mix
Male
Small (6-20 lbs)
Status: Adopted
Terrier/Chihuahua Mix
Male
Small (6-20 lbs)
Status: Adopted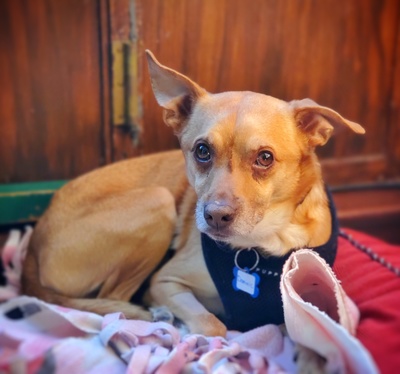 Do you need some Chihuahua glitter in your life? Meet Dominic!
All that is glitter is gold, and these are golden times! Dominic is a golden brown Chihuahua who will charm the dickens out of anyone who meets him! With his little dog handsomeness and friendly personality, Dominic shows us that size has nothing to do with it when it comes to making a big impact in someone's life. Sweet little barks of love, have never been whispered so soft and true! You know love when you see it, and you'll feel love when you meet Dominic … and just in time for the holidays; Dominic is your jingle bell bark! Life won't always sparkle by itself, so it sometimes needs a little help; and Dominic is just the dog to add that extra sparkle that we all want so much! Come to Muttville and meet Dominic today!
HERE'S WHAT HIS FOSTER HAD TO SAY:
Dominic is a perfect combination of playful buddy and lovable lap dog. He does get nervous around new people and new situations and may let out some nervous, but not aggressive, barks. Once he is comfortable though, he is as sweet and affectionate as can be.
He has a good amount of energy. He LOVES to play with his ball and is usually up for a good game of fetch or tug-of-war. He also enjoys nice brisk walks where he can sniff and explore every inch of the way. After playtime and walks he is content to curl up in my lap for a belly rub (he loves the belly rubs, especially when he wakes up in the morning) or a cuddle and a nap.
Dominic is completely house trained and is even starting to let me know when he needs to go out. He is fine being left alone at home without being crated or contained to one room. He seems to sleep the entire time but is always excited when I come home
Dominic is estimated to be 9 years young and 16 pounds.
We're delighted to report that Dominic is currently in a loving and caring home!