Couch Potato 5305
Chihuahua Mix
Male
Toy (under 6 lbs)
Status: Adopted
Chihuahua Mix
Male
Toy (under 6 lbs)
Status: Adopted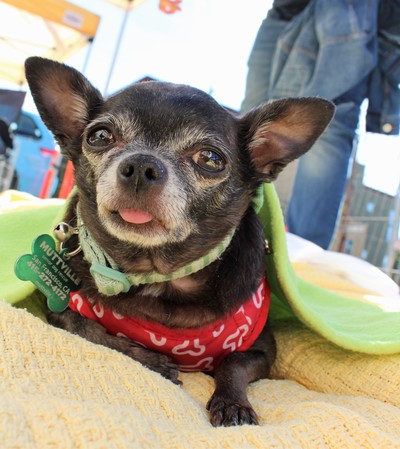 Introducing Couch Potato! The sweetest little chihuahua to snuggle up any time of the day!
Couch Potato comes to Muttville because he was surrendered by his previous owner. Despite such a change in his life, Couch Potato is sweet, mellow and just wants to snuggle up with you! He is the perfect lap dog who will bring so much love to your life. Couch Potato is a gentle soul and great with other dogs. If you're looking for a sweet little companion, he is the one!
Couch Potato is 11 years young and weighs 5.5 lbs.
Here's what Couch Potato's foster has to say about this little guy:
Couch Potato is a sweet, content, quiet & brave little fellow. He is curious about other dogs & will sniff when they approach him. I've never heard him bark at humans or dogs. Couch Potato loves to nap! Normally I can find him curled up on a blanket or on his bed. He also loves his daily walks & exploring Duboce Park. He's very independent too & is happy to "do his own thing". Couch Potato is house trained & will let you know when he wants to go outside. He's also fine using a pee pad. Although Couch Potato normally walks at a slow pace – he does run down the hall to my apartment every time we come inside from walking. He's so enthusiastic that sometimes his left back leg can't keep up & he'll run using three legs. It's very adorable!
We're delighted to report that Couch Potato is currently in a loving and caring home!