Cool Jay 7440
Dachshund/ Spaniel Mix
Male
Medium (20-50 lbs)
Status: In hospice care
Dachshund/ Spaniel Mix
Male
Medium (20-50 lbs)
Status: In hospice care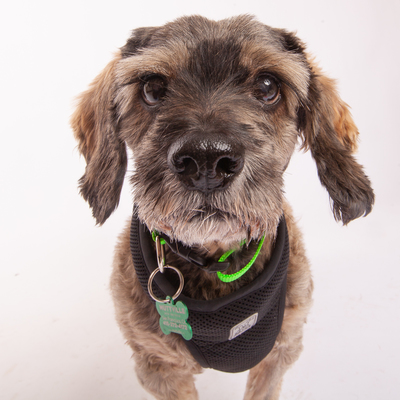 Cool Jay! He's the coolest cat (dog) you ever did see!
Hey, all you swinging kittens and cats out there … are you looking for the hippest dog around? Well, that has to be Cool Jay! Cool Jay is a lovable Dachshund who's very "in" with the in crowd and he's ready to find his forever pad! Somewhat quiet, but very observant and always watching, Cool Jay is the perfect pal for all your crazy, and even not so crazy, adventures. Whether it's a trip to Hipsville or a quick visit to Squaresville, Cool Jay will happily be on that journey with you. Cool Jay is so cool, he doesn't even know he's cool; in fact, he's the whole beat generation in one tiny furry package. Can you handle that much understated cool? If you're hip to it, swing by Muttville and meet Cool Jay today!
Cool Jay is estimated to be 10 years young and 24 pounds.
Here's what Cool Jay's foster has to say about him:
Cool Jay is low-energy & very sweet. He loves humans. Enjoys company of others but not super attached or cuddly unless sleeping on bed at night, then he'll be right next to you. He's fine sitting next to you, but won't crawl on your lap or seek you out. Only barks on very rare occasions when he's been left outside in the backyard. When off-leash in a closed space with other dog he does well but he may need a little space during meal times. This seems to get better with time as he gets used to the environment & the other dogs. Seems to be hard of hearing so can be startled if touched or approached from behind. Cool Jay is pretty regular with urination & bowels & will let you know if he needs to go out. He is very food motivated & will eat most things you give him – pretty easy eater. He also loves to nap a lot…sometimes you wonder where he is!
After being diagnosed with a terminal illness, Cool Jay is living life to the fullest in our Hospice Program, under which one of our special hospice families has provided him with a loving home and the very best possible end-of-life care. Please wish Cool Jay well!

Would you like to support the dogs in Muttville's Hospice Program through a donation? Click here to donate items, services or funds.