Connie 7547
Chihuahua Dachshund Mix
Female
Small (6-20 lbs)
Status: In hospice care
Chihuahua Dachshund Mix
Female
Small (6-20 lbs)
Status: In hospice care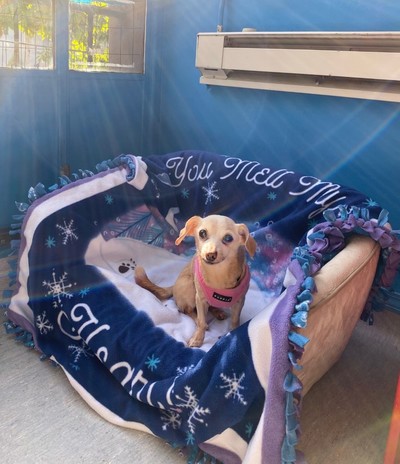 Connie is a middle school English teacher who is tired of the grind and wants a life outside of the classroom. Her wide eyes say it all. "I have put up with seventh graders for ten years too long and need to be around humans who treat me with the respect I deserve!" She is a Chihuahua dachshund mix who has a silly sense of humor, probably due to years of hearing potty jokes. Connie loves to sniff new people and convince them to give her belly rubs. This is obviously not appropriate behavior for a classroom but would work beautifully in your home.
HERE'S WHAT HER FOSTER HAD TO SAY:
Connie is the most special girl! She makes me smile all day long. She is the most loving dog, and loves nothing more than to be close to her human. She follows me around everywhere. She loves to be carried and loves to curl up on your lap on the couch. At night she sleeps in bed with me under the covers. She is a good little sleeper and sleeps through the whole night. She is very agile and very adventurous for her age. She has no problem jumping up on the couch or on chairs. She is super friendly with people and loves anyone who will give her pets and head scratches. She is very silly and loves to roll on her back for belly rubs. She would be the perfect addition to any home!
Connie is estimated to be 13 years young and weighs 7 lbs.
After being diagnosed with a terminal illness, Connie is living life to the fullest in our Hospice Program, under which one of our special hospice families has provided her with a loving home and the very best possible end-of-life care. Please wish Connie well!

Would you like to support the dogs in Muttville's Hospice Program through a donation? Click here to donate items, services or funds.