Citrine 5177
Min Pin
Female
Toy (under 6 lbs)
Status: In hospice care
Min Pin
Female
Toy (under 6 lbs)
Status: In hospice care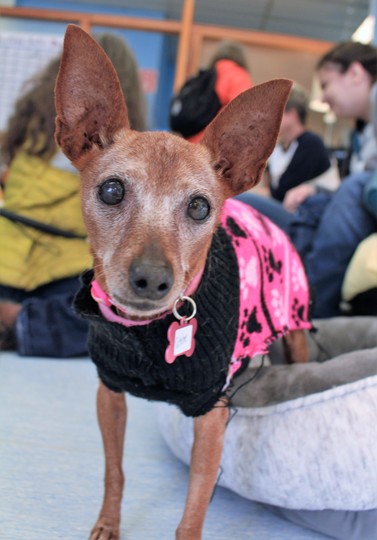 Citrine is an adorable and tiny little gal who wants nothing more than a place to call home!
This senior girl is laid-back, mellow, and quiet. She tends to find a cozy place and enjoys watching all the hustle and bustle happening. She's great with dogs of all sizes and is clearly well-socialized. She also loves cuddling and going for walks. Citrine was originally given away by her owners and, despite this recent change in her life, still seems to be a really happy dog. Can you give her a forever home and wonderful life this holiday season!?
Citrine is 10 years young, weighing 6.5 pounds.
Due to Citrine's advanced age, and limited vision, she is available for adoption through Muttville's hospice care program.
Here's what Citrine's foster has to say about this gal:
Citrine is a sweet, loyal cuddle bug. Her 2 favorite places are burrowed under blankets & sitting on her human's lap. Her little nub tail wags non-stop when she becomes aware of the presence of one of 'her' humans.Citrine is very low key & enjoys napping most of the time. She enjoys short walks & all of the wonderful smells. Citrine is fine with my 2 small dogs. She will get in the dog pillow with my chihuahua & cuddle. Citrine largely ignores our cats. She is excellent at learning her surroundings & is not intimidated at all in wandering around to learn them. Citrine has had very few mistakes in my house since we've gotten her on a schedule. She will immediately do her business when taken out & put on the grass. Sometimes I think I've lost Citrine only to find her burrowed so far into the dog bed & blankets that, due to her small size, she is almost invisible!
Hear about Citrine from her foster mom and watch her get excited!
Watch Citrine enjoying some loving laps!
Look for her in this cute video, too!
After being diagnosed with a terminal illness, Citrine is living life to the fullest in our Hospice Program, under which one of our special hospice families has provided her with a loving home and the very best possible end-of-life care. Please wish Citrine well!

Would you like to support the dogs in Muttville's Hospice Program through a donation? Click here to donate items, services or funds.