Chowdah 6648
Boston Terrier/ Terrier Mix
Male
Medium (20-50 lbs)
Status: Adopted
Boston Terrier/ Terrier Mix
Male
Medium (20-50 lbs)
Status: Adopted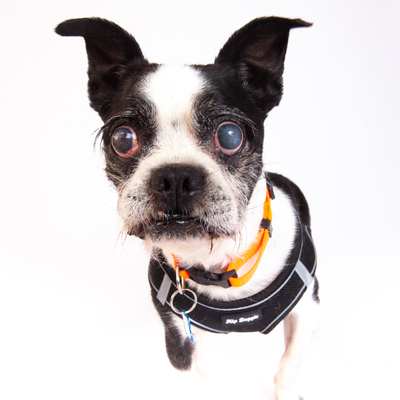 Chowdah is as goofy does, and he is our kind of goofy!
Chowdah is an adorable yet silly little Boston Terrier who acts like a puppy and will steal your heart! He's a playful guy who loves to play and say hello to everyone! In fact, when Chowdah arrived at Muttville, he was a fast favorite creating joy with everyone he met! Spending time with Chowdah will be a laugh a minute kind of thing, and your smile will never go away. Are we having fun yet? And the best thing is that Chowdahl will be having just as much fun as you! With Chowdah, you'll have someone to be goofy with … what could be better? Life I love you, all is goofy! Now, stop goofing around, and come down to Muttville and meet Chowdah today!
Chowdah is estimated to be 8 years young and weighs about 21 pounds
We're delighted to report that Chowdah is currently in a loving and caring home!