Chelo 2204
Pomeranian
Male
Small (6-20 lbs)
Status: Adopted
Pomeranian
Male
Small (6-20 lbs)
Status: Adopted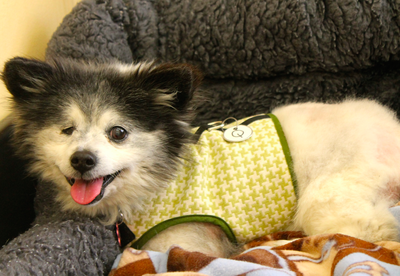 Heartbreaker…this little guy got the drop off at the animal shelter because,"he was just too old". It never ceases to amaze us here at Muttville. the cruelness of people.
Cello is a cuddly boy that needs some TLC and love for the rest of his days. He is 14 years old but has some life and love left to give!
he is a cuddle muffin who is quiet and easy with other dogs and cats.
Think about opening your heart to him, he deserves the best.
Chelo's heartbreaking story has touched the hearts of millions. Read his story here.
Chelo's story is not unique. So many dogs are abandoned and surrendered simply because they're too old. They've got so much left to give. Help us give dogs like Chelo a second chance at life! Please give.
We're delighted to report that Chelo is currently in a loving and caring home!