Cedric 7542
Shepherd Chow mix
Male
Large (50-90 lbs)
Status: In hospice care
Shepherd Chow mix
Male
Large (50-90 lbs)
Status: In hospice care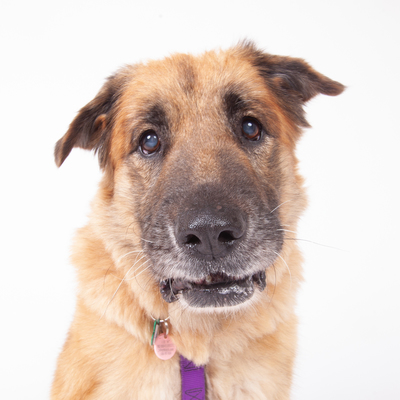 If you're looking for someone to help you forget about life's worries and its strife … meet Cedric!
Are we talking about the bare necessities of life? Well, one doesn't need much more than Cedric to keep them happy and warm! Cedric is a handsome Shepard with brown soft fur and beautiful paws that look like big throw pillows. Wherever you wander, wherever you roam … you'll want this wonderful and lovable guy with you all the time. We feel that a night on the town with Cedric would be mighty fine, and a day in the country would be wild; it would be like a country bear jamboree! But enough of this chit-chat, yick-yack and film-flam! Cedric is the one! Yes, all good things come to those who wait … but why continue to wait when what you are waiting for is right in front of you? The wait is over! Come by Muttville and meet Cedric today!
Cedric is estimated to be 11 years young and weighs about 58 pounds.
Cedric's foster has to say:
I just brought Cedric home to foster a few days ago and his goofy personality is absolutely beaming now, he's so happy to be out of iso! I would love to tell you what I have discovered about him (he is very expressive and outgoing and funny!). I live in Fairfax, and I discovered what an outdoorsman he is!
He has hind end weakness and muscle atrophy, but Cedric is a trooper! Although he is wobbly, he is willing to try anything, and just yesterday he was going up and down my 4-5 outdoor stairs on his own. He also loves to swim. I have a little creek in my backyard and he jumped right in! So I think he would do really well with regular exercise and swimming/underwater therapy. He can rebuild his muscles and improve mobility. He just needs someone willing to work on this with him – he is ready and willing!
After being diagnosed with a terminal illness, Cedric is living life to the fullest in our Hospice Program, under which one of our special hospice families has provided him with a loving home and the very best possible end-of-life care. Please wish Cedric well!

Would you like to support the dogs in Muttville's Hospice Program through a donation? Click here to donate items, services or funds.