Cassie 7632
chihuahua
Female
Small (6-20 lbs)
Status: Adopted
chihuahua
Female
Small (6-20 lbs)
Status: Adopted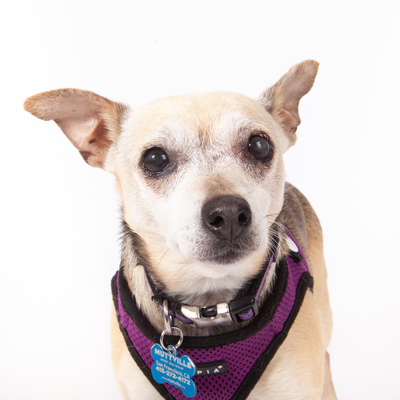 Cassie is the kind-hearted beauty you've been waiting for!
You are going to fall head over heels for Cassie, a beautiful tan/grey chihuahua mix she is as sweet as cinnamon and we promise you'll melt like butter once you set eyes on her! Cassie can be a little bit shy at first but once you let her know your arms are open she'll never let you go. If you ever wondered how much love can fit into one little chihuahua come down to Muttville and Norma will show you!
HERE'S WHAT HER FOSTER HAD TO SAY:
Cassie is the sweetest of the sweethearts! Everyone who meets her comments on her friendliness. She is house trained, pee pad trained, a good walker, a great listener, and knows "Cassie", "sit", "ok", "stay", and "spin". Basically, she is a genius in a teeny tiny package!
She also is full of personality – she will "talk" to you to let you know that she wants more pets, and is very quiet besides when she gets very excited (happens at mealtimes and if she sees a favorite human!), and lets out just one, short bark. She needs some time to warm up to other dogs (if she meets them for the first time nose to nose, she will get nervous and growl). She is fine at home by herself during the day. Her hobbies include: eating greenies, making blanket nests, and sleeping. I love this girl so much, and I know you will too!
Cassie is estimated to be 13 years young and weighs 11 lbs.
We're delighted to report that Cassie is currently in a loving and caring home!