Carousel 6305
Chihuahua
Female
Toy (under 6 lbs)
Status: Adopted
Chihuahua
Female
Toy (under 6 lbs)
Status: Adopted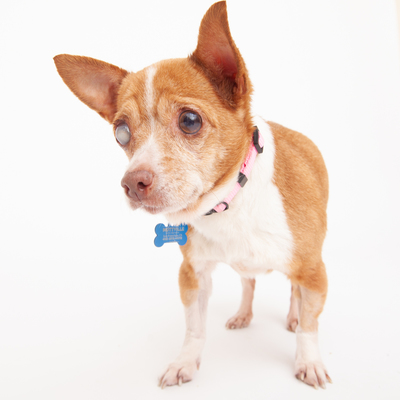 Carousel is a very special little lady looking for a warm lap!
We know that Carousel has been through so much before she arrived here at Muttville. We just cannot even imagine how she ended up roaming the streets of Stockton all by herself, but she is a tough little cookie! Once she arrived at Muttville all she wanted to do was snuggle up and sleep under the blankets. She is feeling better and warming up to life and love! She trots around wagging her little tail and LOVES to be held and pampered. With her wrinkly forehead and irresistible charm you are sure to fall in love just like we all have! She is patiently waiting for her forever home, are you to the one who is going to be that for her? Fill out an application for Carousel today!
Carousel is estimated to be 10 years young and weighs 8 lbs.
Watch Carousel with volunteer, Ashley!
We're delighted to report that Carousel is currently in a loving and caring home!