Care Bear 7572
Chihuahua
Female
Toy (under 6 lbs)
Status: Adopted
Chihuahua
Female
Toy (under 6 lbs)
Status: Adopted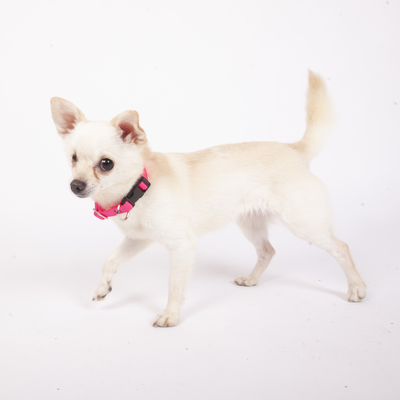 Care Bear is a fluffy white cloud of a Chi with a diva personality! Her signature one-eyed "Care Bear Stare" shoots rays of love, happiness, and kindness into the heart of her intended target. She's a total princess and is the perfect arm candy for a person with a bit of patience. Care Bear is a drama queen in the best way because she knows she's cute, and she loves being the center of attention. Care Bear still gets along with other small dogs, although she'd love to have all of your attention! If your life is currently lacking in sunshine, rainbows, butterflies, and princess power, then Care Bear is your girl.
Here's what Care Bear's foster has to say about her:
Care Bear is the biggest little sweetheart ever!! She's playful, moderately energetic & a great lap dog. She likes to cuddle with our other seniors, so great as far as low energy dogs go. She may get a little overwhelmed or annoyed at more energetic dogs, though. She gets startled when she sees herself in the mirror! If someone new comes into the house, she'll bark but she warms up within a few minutes & then usually doesn't bark again at the same thing going forward. Her house-training is good, she goes outside when we take her potty in the yard & will use a puppy pad if there's an emergency. She is literally the cutest, sweetest, softest, snuggliest (miniature polar bear looking) dog! She will adore you & shower you with love & kisses 24/7. Care Bear will bring nothing but happiness to your home!!
Care Bear is estimated to be 7 years old and weighs 4.5 pounds.
We're delighted to report that Care Bear is currently in a loving and caring home!