Cara Mia 7687
Labrador Retriever/ Spaniel Mix
Female
Medium (20-50 lbs)
Status: In hospice care
Labrador Retriever/ Spaniel Mix
Female
Medium (20-50 lbs)
Status: In hospice care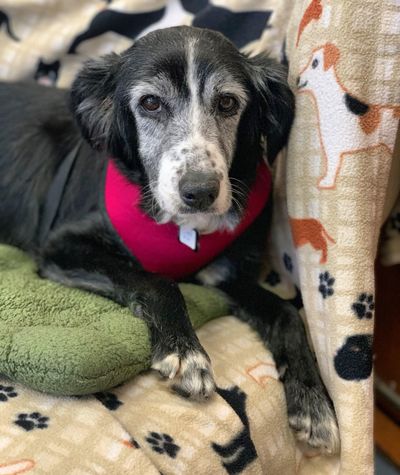 Cara Mia is a stunning girl and as gentle as they come.
Cara Mia is a big beautiful girl who is just about as sweet as they come. She is very lady-like and we are guessing her favorite color is pink. She lays with her legs crossed and is quiet and polite. We just can't imagine how anyone would ever give her up. In our eyes, she is just perfect. She is fine with dogs of all sizes and very quiet, too! We know you will fall in love hard and fast once you meet her so she won't be here for long. Come down to meet this sweet girl today.
She is looking for love, are you??
Cara Mia is estimated to be 11 years young and weighs 37 lbs.
After being diagnosed with a terminal illness, Cara Mia is living life to the fullest in our Hospice Program, under which one of our special hospice families has provided her with a loving home and the very best possible end-of-life care. Please wish Cara Mia well!

Would you like to support the dogs in Muttville's Hospice Program through a donation? Click here to donate items, services or funds.