Butler 5300
Chihuahua mix
Male
Toy (under 6 lbs)
Status: Adopted
Chihuahua mix
Male
Toy (under 6 lbs)
Status: Adopted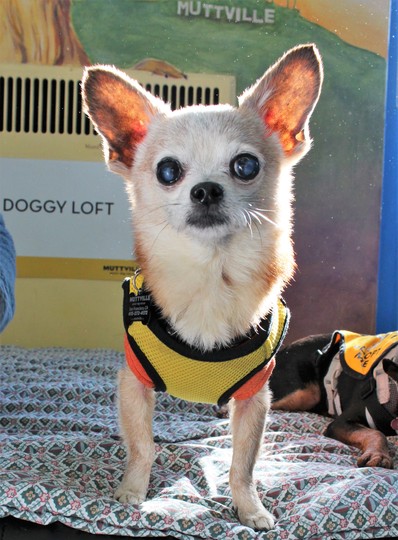 Meet Butler…at your service for all your cuddling needs!
This adorable little Chihuahua mix originally came to us after being found as a stray. As soon as he came to Muttville he made himself right at home- jumping into any lap he could find and making friend! Butler is very outgoing and affectionate. He absolutely loves people and would make the perfect companion. He is great with dogs of all sizes and very lovable! Come meet him soon!
Butler is 12 years young and weighs 5 pounds.
Check out what Butler's foster has to say about him:
Butler is a lovable boy that likes to be where his humans are with a few eccentricities that make him even more lovable. Butler is a low level dude that likes a nice mid afternoon walk when it is warm. He gets little spurts of energy & play behavior when his humans come home. He loves to snuggle under the blankets with his humans. Butler is good with other dogs & he ignores his foster brother cat & doesn't pay any attention to birds on the streets during walks or breaks in the backyard. Butler is house & potty pad trained, he did have an adjustment period while he learned his humans schedule. Butler has the cutest booty shake & play bow when he gets excited. When he gets really excited he starts sneezing & tries to give love nibbles in a playful way. He does a great little shimmy shake dance when we come home with a little bark that just welcomes you home with love.
We're delighted to report that Butler is currently in a loving and caring home!