Terrier/ Chihuahua Mix
Male
Small (6-20 lbs)
Status: Adopted
Terrier/ Chihuahua Mix
Male
Small (6-20 lbs)
Status: Adopted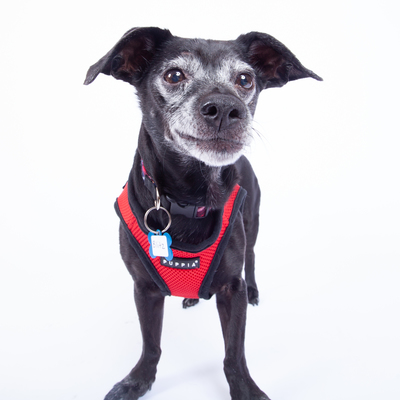 All right, fellows … let's go! It's Blitz!
Are you looking for a rocking kind of dog who is soothing, grooving and ready to turn your life into a ballroom blitz? Well, have we got the dog for you! Blitz is a gorgeous Chihuahua with a sweet personality, an all-knowing look in his eyes, and glorious fur that is darker than the night. Yes, black is definitely the color of this true love's fur. Just as happy when he's hanging around as he is when he's out and about, Blitz is like a little fox on the run! What can we say? Blitz is undeniably the passionate one … and he'll kill you with a wink of his eye! Blitz is such a little charmer that he'll make you feel like you've died and gone to heaven! Are you looking for your little slice of heaven on earth? Come by Muttville and meet Blitz today!
Blitz is estimated to be 9 years young and 17 pounds.
Here's what Blitz's fosters have to say about him:
Blitz is very curious, loves to go on walks & a very mellow dog. He is the perfect good boy to keep you company while still remaining calm & aware. He is pretty active when going on walks, can do stairs & also loves to sleep a lot. He is very good with other dogs & does not really react to them other than stare & be curious. When you carry him you should do it while petting him & not from the back. He really does not like to be carried unless needed (ex. a lot of stairs or car ride). Blitz is very good at house training, he only peed inside the house once & I believe it was because I did not walk him early enough. He loves to be pet & he loves cream cheese & bacon. Blitz also enjoys napping in his bed wrapped with the blanket.
Blitz is as sweet as can be, friendly & calm. His energy level is low/medium. He likes to sleep but really perks up on walks. He is friendly towards other dogs. He can get a little upset when someone leaves the house but will settle down. Blitz's house-training is perfect, he's had zero accidents. Blitz has been very sweet & cuddled with me but definitely loved both my significant other & really loved a guyfriend who visited us. Blitz even hopped up on one of our kitchen table chairs & sat with us while we had wine & talked. It was the sweetest, cutest thing ever!
We're delighted to report that Blitz is currently in a loving and caring home!