Billie 1504

Female
Medium (20-50 lbs)
Status: Adopted

Female
Medium (20-50 lbs)
Status: Adopted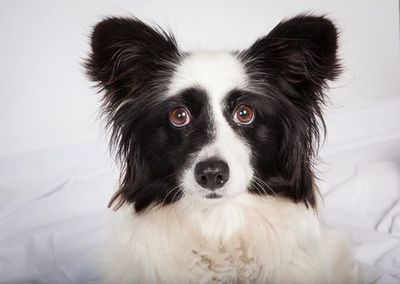 Billie is a 7 year old papillon/corgi mix. She is a beautiful dog with the personality to match. She is great with other dogs, but her true desire is to be with people. She loves meeting new people and being near those she knows. In her foster home, she enjoys following the action whether it is sitting in the kitchen while food is being made or sitting under the desk while work is being done, she always wants to be nearby.
Since coming out of the shelter, Billie has been having many new adventures and has an exuberance for life. She has learned that she can go hiking, run on the beach, and she loves trying new foods. She is housebroken and well-behaved when left home alone.
She had a great Thanksgiving with Muttville, but would really like to find a new family for the holidays!
We're delighted to report that Billie is currently in a loving and caring home. Thanks to all the wonderful friends of Muttville who helped to make this happen.