Betty White 4372
Terrier/Chihuahua
Female
Small (6-20 lbs)
Status: In hospice care
Terrier/Chihuahua
Female
Small (6-20 lbs)
Status: In hospice care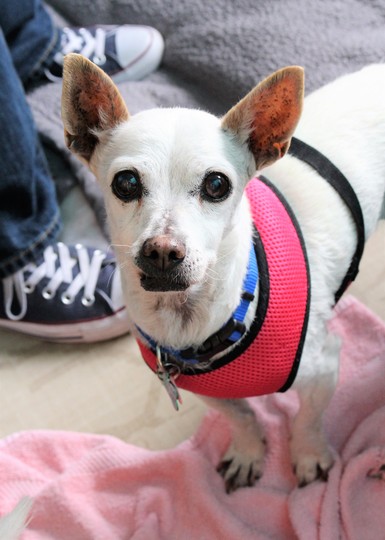 Betty White may look like a "plain Jane" to some, but this sweet girl has so much love to give! Betty is a loving and soulful gal who would love to find a family to call her own very soon. She enjoys going for walks, meeting people, and does well with dogs of all sizes. She is a very quiet girl and spends most of her time lounging in a cozy bed or exploring. Overall she has a gentle demeanor that would make her a wonderful, calming companion!
Betty White is about 12 years young and weighs 12 pounds.
Betty White is available for adoption through Muttville's hospice care program due to malignant mammary tumors and muscle tremors.
Here is what her awesome foster has to say:
Betty White generally prefers to lie right next to us. If you're lucky, you will get the rare Betty White kiss. This means she likes you a bunch…or you have some kind of food flavor on you. Betty White is now a stairs champion. She sleeps a lot but will jump at the offer to go for a walk. She is great on walks and likes to sniff as much as she can. She is pretty laid back with little bursts of energy here & there. Her basic activity level is cuddles. She is good with other dogs and house-training & doesn't have any issues being left home alone. She'll generally wait for one of us to take her out, but if we take too long she just uses a pee pad. She is excellent with pee pads. She makes these cute little purring/moaning sounds when she is being pet. The gal loves a good sunbeam, but her favorite place to be is lying next to you on the couch.
After being diagnosed with a terminal illness, Betty White is living life to the fullest in our Hospice Program, under which one of our special hospice families has provided her with a loving home and the very best possible end-of-life care. Please wish Betty White well!

Would you like to support the dogs in Muttville's Hospice Program through a donation? Click here to donate items, services or funds.