Berry 4580
Shepherd Mix
Female
Medium (20-50 lbs)
Status: Adopted
Shepherd Mix
Female
Medium (20-50 lbs)
Status: Adopted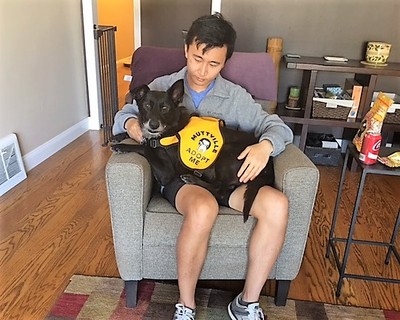 Meet Berry! This precious Shepherd mix comes to us all the way from Taiwan where she was picked up as a stray. Berry spent several months with a loving foster and was fully vetted before arriving at Muttville. We are still getting to know this sweet girl but so far she's been perfect with every dog and person. Here is what her foster mom says about Berry:
Berry is a friendly, sweet, and mellow senior girl. She is a happy go lucky dog and loves to be around people and loves to be pet. Berry enjoys her daily off leash walks, rides well in the car, and can wait patiently while her foster mom runs errands. She is now in a foster home with many rescued dogs. Berry gets along dogs with all kind of temperament and ages. Berry is very good with young children and is very gentle with them. The foster family has a 10 years old boy and they get along really well.
Poor Berry was abandoned in a busy street where she was starving. She went to up everyone hoping they will take her home. People were not nice to her. They either kick her away or chase her with sticks. A kind high school student felt so bad for her. She bought Berry some food and Berry followed her around. She immediately called several rescue groups but no one was willing to help Berry because she is a black senior dog.
She brought Berry to a nearby vet and the vet referred her to contact a rescue group that had a lot of experiences. The rescue group is completely full but has a soft spot for black dogs and didn't want to see Berry suffer on the streets. The rescue immediately agreed to take in Berry and promised her a good life. Berry has been doing very well since the first day she arrives at her foster home. She quickly made friends and won the hearts of everyone in the foster family.
Berry has been vaccinated, spayed, microchipped, de-wormed, and passed negative on her blood tests. She is one healthy girl. Please give Berry a loving home so that she can show you how wonderful she is.
Come meet Berry today- she may be your new best friend!
Berry is 10 years young and weighs 35 pounds.
Here's what Berry's foster has to say about her:
Berry is a very sweet, very gentle & a people-loving dog. She is very calm & will seek attention by walking up to me and looking me in the eyes, or gently nudging my hand with her nose. Berry loves food! She also loves being petted. Berry does great in the car. She jumps right in when prompted, sits quietly in the back, and sometimes enjoys sticking her nose out the window. She can do a 2-3 hour walk no problem, but on other days is happy to sleep and go on a short walk. Berry is very good with other dogs. She needs some warming up when being picked up and also likes to eat her food alone. Berry is fully house trained. Berry has intelligent, expressive eyes that communicate a lot. She is very endearing. She has slept through the night & enjoys being in her crate with the door open. When I return from errands, she is always in her crate waiting.
Here are some of her videos:
The story behind Berry's rescuer
Berry shortly after she arrives at Muttville!
We're delighted to report that Berry is currently in a loving and caring home!