Badda Bing 7560
Lhasa Apso Mix
Male
Medium (20-50 lbs)
Status: Adopted
Lhasa Apso Mix
Male
Medium (20-50 lbs)
Status: Adopted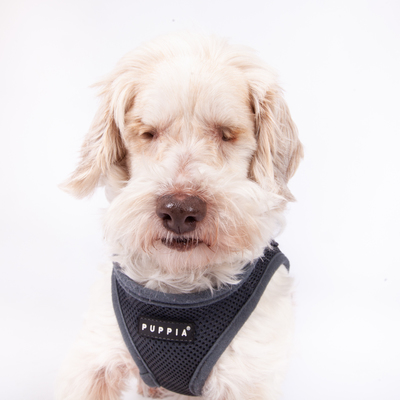 I'm gonna make you an offer you can't refuse: Bada Bing. Bada "Babyface" Bing is a made guy and knows it. He was found as a stay in Hayward, whattaya gonna do, ya know? He likes calling shots and mobbing around Muttville with his goombahs. He enjoys the finest (dog) foods, and is also a heavy drinker (of water). Bada Bing is already a member of the family, but he'd still be happy to be the capo of yours. Come meet this adorable mutt today!
Badda Bing is estimated to be 14 years old and weighs 14 pounds.
HERE'S WHAT HIS FOSTERS HAD TO SAY:
Badda is a perfect handsome gentleman dog. He is easy going and can be assertive with barks for food or when he wants something. A cat-free home may be the best unless you are nocturnal. He is house trained and can go in/out the doggie door and up and down stairs to accompany you about your home, even with his lack of vision. He may whimper some when you leave him, and he is always so happy to greet you upon your return. Badda is a good treat food eater and pill taker!
Badda Bing is the chillest of all dogs! Hi is fully house trained (no accidents ever!) and his favorite hobbies are naps and belly rubs. Badda is quiet at home, he is always glad to go for a walk and great on a leash. He loves to have a company and will follow you everywhere around the house, but at the same time has no problem with staying at home on his own. Badda is a very low maintenance, he just wants to be by your side, being cuddled and never says 'no' to something yummy!
Staff Pick
Badda Bing is PURE perfection! He is one of my all-time favorites. He LOVE to take naps in the sun on his back with his adorable paws in the air, but don't be fooled, this guy motors down the street on energetic walks. So if you are looking for the PERFECT mutt that has the PERFECT balance of chill and pep – Badda BIng is your man! If you think you are the Badda Boom to our furry Badda Bing – come meet this special mutt.
Love, Caran
We're delighted to report that Badda Bing is currently in a loving and caring home!