Babette 7618
Bulldog
Female
Large (50-90 lbs)
Status: Adopted
Bulldog
Female
Large (50-90 lbs)
Status: Adopted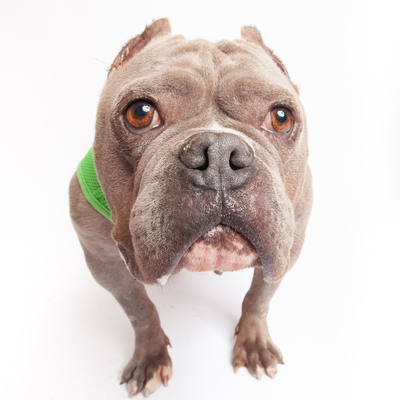 Precious, big smoosh Babette is the sweetest girl! She flaunts her impressive muscles around Muttville, but she prefers naps over lifting weights. Lucky for us, because we love listening to her adorable snores. She loves being pet, scratched, and cuddled – if you rub her face, she starts falling asleep in your hands. Babette is a very pretty girl, and unfortunately was used to for her good looks to breed. She's looking for a home where she get the love and attention she deserves! Since she is a quiet, low-key girl, she'd do best in a home with the same vibe.
Babette is estimated to be 7 years old and weighs 45 pounds.
We're delighted to report that Babette is currently in a loving and caring home!