Annie Bear 7684
Pomeranian
Female
Small (6-20 lbs)
Status: Adopted
Pomeranian
Female
Small (6-20 lbs)
Status: Adopted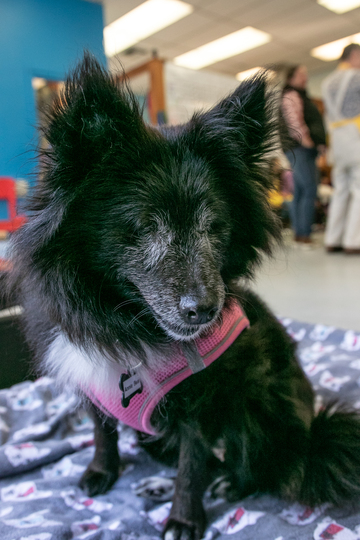 You won't be able to keep your hands off of sweet, calm Annie Bear — a luscious little plushie just waiting for you to sink your fingers into her thick, soft Pommie fur. Annie B. is a tactile delight who offers all the benefits of an adorable baby bear cub, without the accompanying mama grizzly who wants to kill you. Bring this fluffy pup home with you and impress your neighbors! Make your frenemies jealous! Fill your exes with regret!
HERE'S WHAT HER FOSTER HAD TO SAY:
Annie Bear is suuuuper sweet. She makes her way around really well, sans eyes! She is sprightly and walks around the house, and snoozes in comfy beds. She gets along well with other doggies. She eats well! She does well if the household keeps furniture and other items in the same place. She is a wonderful girl. She is just in need of her loving forever home!
Annie Bear is estimated to be 12 years young and weighs 13 lbs.
We're delighted to report that Annie Bear is currently in a loving and caring home!