Ann Halen 7511
Chihuahua
Female
Toy (under 6 lbs)
Status: Adopted
Chihuahua
Female
Toy (under 6 lbs)
Status: Adopted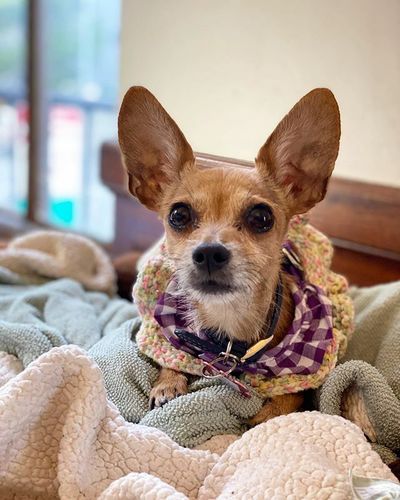 Got to know why can't this be love?
I wanna know why can't this be love?
Actually, it WILL be love if you go adopt Ann Halen from Muttville! Ann Halen's story is like a rock ballad, so get your lighters out. She was surrendered to Oakland Animal Services by her guardian because they were unable to care for her. Even though she's gone through some heartbreak, she hasn't given up on love. Ann Halen is the perfect size to take with you everywhere, so you never have to be apart (of course, you could be if the need arises but you're not going to want to with a true love like this). Ann Halen is such a cute and sweet girl and she has a sensitive side. All the loud noises and the hustle and bustle of the city can make her a little nervous and overwhelmed. Ann would like to request that she lives outside of the loud city in a quieter area to make her the most comfortable that she can be. If you are looking for a loving companion to love you endlessly and live in a quiet neighborhood, Ann Halen is your girl!
Here's what Ann Halen's foster has to say:
Ann is a super loving and calm mutt. She loves car rides and walks — the sound of her harness or leash makes her adorably excited! She easily handles stairs, walks beautifully, and is well-mannered. She is house-trained, she has a good appetite, and she doesn't bark excessively. She is a little shy meeting people at first and sudden movements startle her, but she's adjusting to all the changes very well and taking it in stride.
Ann loves to be cozy and snuggle into her blankets. She loves being held and is also happy to curl up next to you. Her go-to snuggle move is to lay her head on your cheek, under your chin, or on your chest – this little gal loves to love!
Anne is estimated to be 9 years old and weighs 5 pounds.
We're delighted to report that Ann Halen is currently in a loving and caring home!