TUESDAY, MAY 5
Mutts & Margaritas Virtual Happy Hour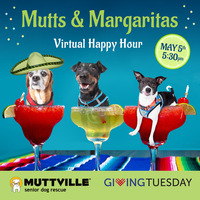 Instagram Live! map
5:30 - 6:00PM
We hope you'll consider supporting Muttville on #GivingTuesdayNow. Not only do the mutts need help as urgent need arises, but adopters tell us they're the best medicine they've ever had. It also happens to be Cinco de Mayo!
To celebrate the generosity of our donors on #GivingTuesdayNow, we're throwing a Mutts & Margaritas Virtual Happy Hour on Instagram Live!
Join Muttville and celebrity Chef Ryan Scott on Instagram Live at 5:30pm on Tuesday, May 5!
Chef Ryan, host of TV's "Food Rush," will walk us through his delicious Cucumber Cadillac Margarita. And we can all toast the great community that makes Muttville possible!
Want to make sure you've got the ingredients on hand? Here's sneak preview of the recipe:
Cucumber Cadillac Margarita by Virtual Happy Hour special guest host, Chef Ryan Scott!
1 cucumber
2 oz silver tequila
¾ oz lime juice
½ oz agave or simple syrup
.25 oz orange liqueur
Coarse sea salt
Directions: In a mixing tin, muddle 2 slices of cucumber. Add tequila, lime juice, agave syrup, and orange liqueur. Shake with ice and strain into rocks glass filled with fresh ice. Garnish with a salted rim and a slice of cucumber.