FRIDAY, NOVEMBER 1
3030 Rescue Run Club Challenge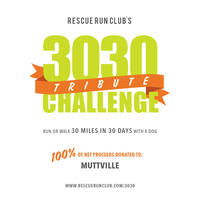 Rescue Run Club 3030 Challenge is a virtual event taking place during months with 30 days. You complete the mileage on your schedule, at your pace, with dog(s) of your choice. Take you own dog, borrow a friend's or neighbor's dog, or volunteer with Muttville and walk a Muttville dog! Any combination can be used to complete the 3030 Challenge!
Rescue Run Club is a socially responsible business and lifestyle brand which seeks to promote dog adoptions and active lifestyles! In November, Rescue Run Club is supporting two senior dog rescues with their 3030 Challenge.
Register by October 31st to support Muttville! Visit Rescue Run Club to learn more and join the Muttville team. 100% of team proceeds are donated the team captain's rescue organization.