SUNDAY, AUGUST 18
The Dog Days of Summer - High Fashion at Barebottle Brewing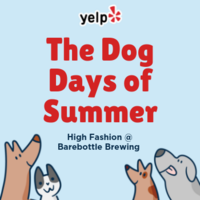 Barebottle Brewing Company
1525 Cortland Ave San Francisco
CA 94110 map
1:00 - 4:00PM
Dog lovers! This August is for you!
In partnership with Muttville Senior Dog Rescue, Yelp is bringing you a complimentary, pooch-friendly series of events where you can bring your furry friend to socialize with other pups and your awesome fellow Yelpers. Each event will also feature giveaways to help pamper your pup and awesome offers/promotions from participating San Francisco based businesses.
Bring your friendly, vaccinated dogs to Barebottle Brewing for an evening of high fashion! We'll be having a costume contest with some super cool prizes alongside plenty of doggie treats and Barebottle beers! Confirmed RSVP required.