THURSDAY, AUGUST 8
Dog Days of August: A FUNdraising Canine Art Exhibit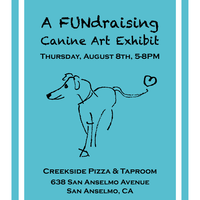 Creekside Pizza and Taproom
638 San Anselmo Avenue
San Anselmo
CA map
5:00 - 8:00PM
Mill Valley artist/art curator Leslie Lakes – Director of a Marin County MARINLINK Non- Profit Project PATH – is delighted to bring a collection of dog related artwork to the award winning Creekside Pizza and Taproom this August!
The canine related art exhibit coincides with "DOG DAYS OF AUGUST". 15% of proceeds from sales of art will benefit Muttville in our mission to change the way the world thinks about and treats older dogs!
Enjoy an opening reception on Tuesday, August 8th from 5-8PM. Refreshments provided! The benefit is live from August 1 through August 31.