SATURDAY, AUGUST 3
Troop Pop-Up Cocktail Garden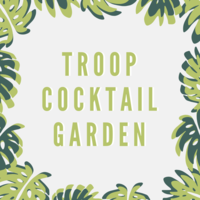 Story on Union
2136 Union Street
San Francisco CA
94123 map
4:00 - 7:00PM
Troop Beverage Co. is on a mission to change what it means to drink. Troop makes canned cocktails with spirits and 100% real ingredients and source everything they can from local businesses and farms.
Troop works with and supports several nonprofits in the Bay Area, as they're passionate about giving back to the community. Join Troop this summer for their Troop Cocktail Garden series supporting local nonprofits!
On Saturday August 3rd come meet some Muttville mutts and enjoy canned cocktails, frozen drinks, and light bites in a garden space with twinkle lights. All proceeds benefit Muttville!