SATURDAY, AUGUST 3
Best in Show Screening (BYOD!)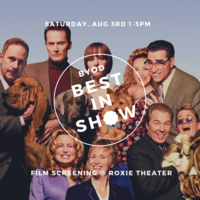 Roxie Theater
3117 16th St
San Francisco
California 94103 map
1:00 - 3:00PM
The Roxie presents: Bark in the Dark: BEST IN SHOW, BYOD!!!!! (Bring your Own Dog)
Featuring the first ever Roxie PUP PAGEANT!
Enter your pup for a chance to win first, second and third prizes!! Sign your pup up here. To learn more about the event or to purchase tickets, please visit The Roxie website.
All proceeds from BYOD tickets will benefit Muttville Senior Dog Rescue!
This is a BYOD (Bring Your Own Dog) event! Dogs are invited and will be in attendance at this screening. You do not need to have/bring a dog to attend. Owners are responsible for their dog's behavior. Overly aggressive or uncontrollable dogs will be asked to leave. No more than two dogs per person please.