SUNDAY, JUNE 30
Boston Tea-rier Adoption Party!!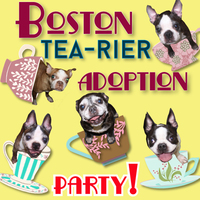 Muttville Headquarters
255 Alabama St. (corner of 16th)
San Francisco map
12:00 - 4:00PM
Get some lovin' at our BOSTON TEA-RIER ADOPTION PARTY event, from 12pm to 4pm!
By a strange coincidence, the dogs that arrived at Muttville this week were pretty much ALL BOSTON TERRIERS! But what a diverse bunch – black, brown, big, small, shy, bold – but all as sweet as could be. Come meet them!! There is surely a mutt (Boston or otherwise) that you'll fall in love with!
Drop by any time. And if one of the lovable mutts on our website has already snagged your attention, let us know you're coming so we can make sure that particular cutie-pie is there to meet you!
Email adoptions@muttville.org to learn more!