SATURDAY, MARCH 23
Salty Dogs Workout!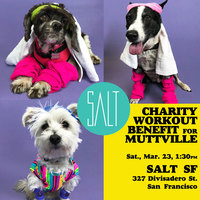 SALT SF
327 Divisadero Street
San Francisco CA map
1:30 - 2:30PM
Boutique fitness studio SALT SF is hosting a workout benefitting the mutts! Get ready to get sweaty and help us raise funds for senior dogs in need.
Sign up for the 7×7 class being held on Saturday March 23rd at 1:30PM. The class is not your average circuit training class. Seven rounds of seven strength and sports conditioning exercise are incorporated into a 60-minute class for ultimate fat burn and strength gains. Thoughtful mobility warm ups prime the body for the use of resistance bands, sandbags, and bodyweight burners to shed away layers of fluff, build strength, and endurance.
Book your class here! Find the Salty Dogs 7×7 Muttville Donation Class on March 23rd.