THURSDAY, MARCH 7
Nightlife & Death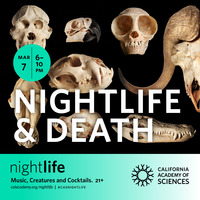 California Academy of Sciences
55 Music Concourse Dr
San Francisco
CA 94118
6:00 - 10:00PM
It's a matter of NightLife and death when Muttville and California Academy of Sciences teams up with the Reimagine End of Life Festival to examine the big questions about death in the natural world through an evening of science, discussion, and art.
Please join the Muttville gang as we discuss our hospice program and end of life care for senior dogs. Muttville will be bringing hospice dogs to help foster a great interactive conversation!
Learn more about the evening and buy your tickets here.