WEDNESDAY, DECEMBER 19
Mindful Practices to Support your Adoption Journey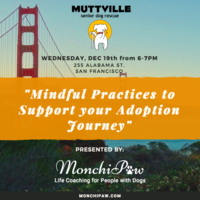 Muttville Senior Dog Rescue
255 Alabama Street
6:00 - 7:00PM
Join us at Muttville HQ for a wonderful seminar hosted by Life Coach Sandra Rivadeneyra tailored for new mutt parents!
Sandra's coaching approach focuses on breaking old patterns that are interfering with your happiness and freedom. With the support of your dog, Sandra will create a whole new mindset to empower all areas of your life, especially the connection with your dog.
Together you will explore ways to integrate your new companion into your life!