SUNDAY, DECEMBER 2
Deck the Hills with Seven Stills!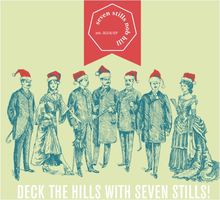 Stanford Court Hotel
905 California St.
San Francisco
CA 94108 map
1:00 - 3:00PM
The mutts will be visiting our friends Seven Stills of San Francisco in the Courtyard of the Stanford Court Hotel in Nob Hill for a Holly, Jolly Beer Tasting, Gift Getting Holiday Fair!
Meet & mingle with the mutts! Enjoy the entertaining and lively activities featuring:
- Seven Stills Beer & Cheer Garden with 4 guest breweries!
- Lots of great gifts to buy from SOS Bakeshop, Covey Ceramics, Andytown Coffee, Metal Muse, Hard Frescos, and MANY MORE!
- Fun games and activities for the kids and pets!
We look forward to seeing you there! Woof!!