FRIDAY, NOVEMBER 30
Fritter for a Cause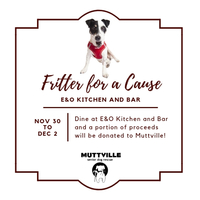 E&O Kitchen & Bar
314 Sutter Street
San Francisco
CA 94108 map
12:00 - 10:00PM
Have you tried the Indonesian corn fritters at E&O Kitchen and Bar? Now's your chance!
Come in for a special benefit weekend during E&O Kitchen and Bar's annual Fritter Fest, 11/30-12/2. A portion of proceeds from their special Fritter Fest menu will be donated to support Muttville.
They'll be serving up specials including: Dirty Fritters, Bucket O'Fritters, Fritter Burger, plus complimentary passed fritters every hour. Head down to Union Square for some fritter fun and giving back!
Don't fritter away this opportunity to enjoy some tasty food while supporting the old mutts!
@eandosf