SATURDAY, NOVEMBER 17
Health & Wellness Resource Fair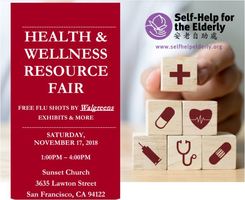 Sunset Church
3635 Lawton St
San Francisco
CA 94122 map
1:00 - 4:00PM
Join us at Self-Help for the Elderly's Health & Wellness Resource Fair at Sunset Church.
This is a free event where you can check out interactive exhibit booths and also receive a flu shot from Walgreens.
Visit all the booths to collect stamps for a SPECIAL PRIZE! There will also be an hourly raffle to win a Disaster Kit.
Muttville will be on hand to share information about no-cost adoptions to anyone 62 years and older through Muttville's Seniors for Seniors program .