Zaza 4957
Poodle Mix
Female
Small (6-20 lbs)
Status: Adopted
Poodle Mix
Female
Small (6-20 lbs)
Status: Adopted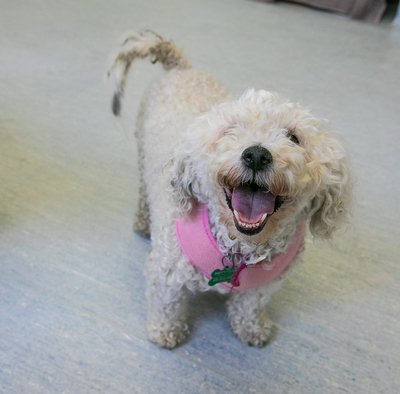 Since arriving at Muttville, zazzy little Zaza has a feeling that her future is looking good!
Zaza comes to us from Berkeley where she was found as stray, and hasn't stopped smiling since she arrived at Muttville! This confident girl loves people and other dogs, and will come right up to ask for pets. This lady still has some pep in her step as she waddles from room to room, so don't tell her she's old! Come meet this darling, tail-wagging senior who is sure to be your new best friend!
We think Zaza is around 10 years young and weighs around 20 pounds.
Here's what Zaza's foster has to say about this sweet girl:
Zaza is sweet, affectionate, & very comfortable and trusting with new people! She greeted my roommates and all of my co-workers in a friendly polite way. She's a well mannered lady who doesn't bark, even in a busy office setting with people coming & going. She enjoys following me from room to room. She is super cute! She's calm but has pep in her step too. She loves going on walks and can do many a day if you have time for it. But she's also content to lay around. She needs some encouragement to go up and down big staircases. She is excellent with my dog & the other dogs we see on walks. She has had no accidents in the house so far. Zaza loves to eat – she knows that food comes out of the refrigerator! She also really likes to be close to people, being held & cuddled and really just likes people.
We're delighted to report that Zaza is currently in a loving and caring home. Thanks to all the wonderful friends of Muttville who helped to make this happen.