Uradiva 4925
Dachshund
Female
Small (6-20 lbs)
Status: In Muttville's hospice program
Dachshund
Female
Small (6-20 lbs)
Status: In Muttville's hospice program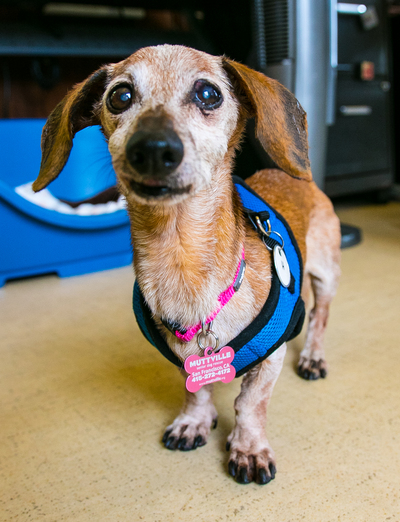 Meet Uradiva, the cutest little pocket Doxie!
Uradiva comes to us from San Jose, where she found herself at the shelter when her caregiver got too sick to care for her. This little sweetheart is so excited to be at Muttville, that her tail hasn't stopped wagging since she arrived. It wags non-stop as she explores around with her little Doxie strut.
Uradiva gets along with other dogs and loves people. She will come right up to you for attention and beg for some love. Come meet this perfect little companion today!
We think Uradiva is 15 years young and weighs around 7 pounds.
Check out Uradiva in this cute video!
After being diagnosed with a terminal illness, Uradiva is living life to the fullest in our Hospice Program, under which one of our special hospice families has provided her with a loving home and the very best possible end-of-life care. Please wish Uradiva well!

Would you like to support the dogs in Muttville's Hospice Program through a donation? Click here to donate items, services or funds.