TJ
Wheaton Terrier mix
Male
Medium (20-50 lbs)
Status: Adopted
Wheaton Terrier mix
Male
Medium (20-50 lbs)
Status: Adopted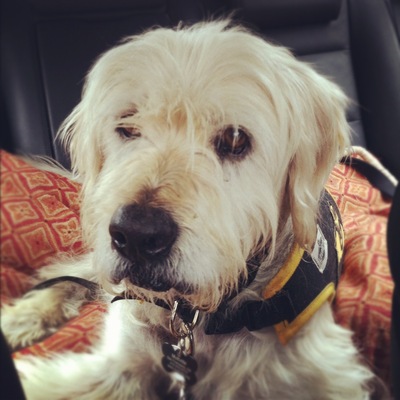 Timmy Junior or TJ for short is one lucky dog! TJ was one of those dogs who has been on the mean streets fending for himself for a very long time. It took 4 shampoos to get all the fleas and dirt and grime off this sweet guy. AND he let us do that!
We think TJ is about 8 years old but because of his hard life, he looks pretty beat up right now.
He has to grow some hair back and get neutered. TJ is great with other dogs and is learning to accept and ask for affection from humans, too.
This dog is just learning what it's like to be a dog and have a regular meal. But he is a quick learner and we love watching him blossom.
He is a wheaton terreir mix and he weighs about 40 pounds.
We're delighted to report that TJ is currently in a loving and caring home. Thanks to all the wonderful friends of Muttville who helped to make this happen.