Sydney & Jake
Great Dane, Great Dane/Shepherd mix
Female/male
Large (50-90 lbs)
Status: Adopted
Great Dane, Great Dane/Shepherd mix
Female/male
Large (50-90 lbs)
Status: Adopted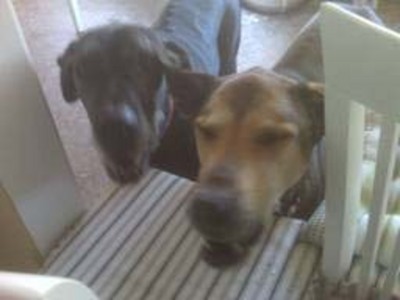 Meet two fantastic dogs, looking for their forever home:
SYDNEY is a 10 year old Great Dane (looks like a huge black lab) – and is a sweet old girl. She is starting to show signs of her age, mellow and very loving – unless you are a cat or other small creature. She's not so keen on the small ones. She'd be best in a house with Jake, another big dog or on her own.
JAKE is 5 or 6 (not quite sure) German Sheppard /Great Dane mix. He has the coloring and look of a German Sheppard with a tall lean body of a small Great Dane. He wants to be with you when you're home. He would be fine with other animals, great spirit, super sweet and loving.
If anyone, anywhere in CA is interested we can get the dogs to them.
We're delighted to report that Sydney & Jake are currently in a loving and caring home. Thanks to all the wonderful friends of Muttville who helped to make this happen.