Sushi
golden mix/mutt
Female
Medium (20-50 lbs)
Status: In memoriam
golden mix/mutt
Female
Medium (20-50 lbs)
Status: In memoriam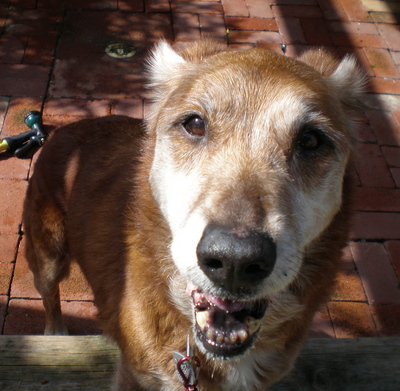 Sushi spent her whole life in a backyard and then when her owner died the kids dumped her at the shelter. She is the sweetest girl, with the saddest eyes. She is joyful here!
Sushi needs a home where she can get lots of TLC. She deseves that and so much more.
We will be taking her to the vet this week. We know she has some arthritis, but she get around just fine. She does her business outside but has had one or two "mistakes"
She is an old girl with lots of love to give and when you see her that is all you want to do.
She needs a somewhat mellow home, but she enjoys the activity and is even starting to play.
If you would like to meet her please contact Muttville!!
Sadly, Sushi has passed away. But thanks to wonderful friends, she spent her final days in a loving home.