Stewie 4442
Chihuahua Mix
Male
Small (6-20 lbs)
Status: AVAILABLE FOR HOSPICE CARE
Chihuahua Mix
Male
Small (6-20 lbs)
Status: AVAILABLE FOR HOSPICE CARE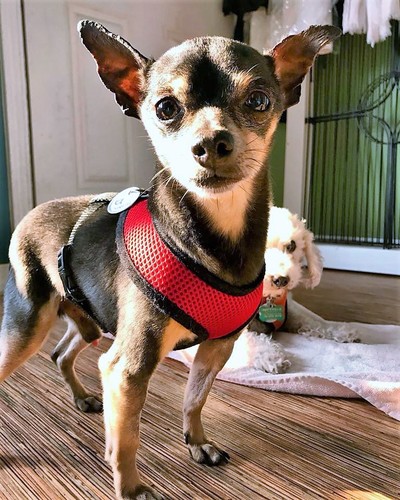 Meet Stewie! This adorable, pocket-sized Chihuahua mix would love a home to spend his golden years in. He is sweet, mellow, and easy-going. Stewie does great with other dogs and loves people. He is affectionate but not needy and seems to be pretty quiet, too. Stewie is sure to win you over!
Stewie is 11 years young and weighs 7 pounds.
Check out what his awesome foster has to say about this little guy:
Stewie has a curiosity and a playfulness. He even has this low half-snore when he's super comfy that sounds a bit like a purr. He loves to be near me, if we are home he will follow us from room to room. He has a very expressive tail. Stewie loves to keep moving all the time. We get five or six walks in a day, and at least one of them is long and brisk. He likes to charge hard in one direction for about 20 minutes & then sit there tired, expecting me to carry him home. Stewie is good with other dogs. He likes to be held closely or put into small places like my backpack. We are working on house-training Stewie, I'm hoping to make progress. Stewie loves chicken breast as a treat. He loves to be scratched and rubbed on the middle of his back along his spine. It makes his legs and tail go nuts and his eyes pop as his head writhes around. I call it "the Stewbie dance".
Watch Stewie eatin' and drinkin'!
We are seeking a permanent hospice home for Stewie so he can live his remaining life to its fullest in a loving home. To adopt Stewie, please complete our hospice adoption process.