Sonny 7692 & Cher 7691
Cattle Dog Mix/ Teacup Chihuahua
Male/female
Toy (under 6 lbs)
Status: In hospice care
Cattle Dog Mix/ Teacup Chihuahua
Male/female
Toy (under 6 lbs)
Status: In hospice care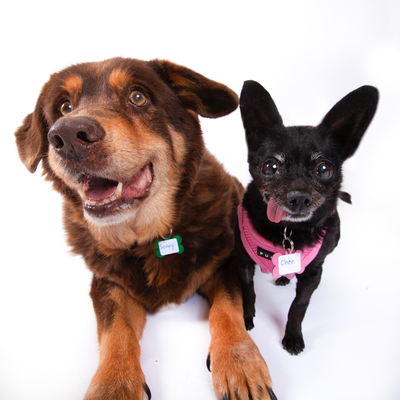 Ladies and gentlemen, it's Sonny and Cher!
In the Muttville cavalcade of senior stars, there is no canine duo more thrilling than Sonny and Cher! Sonny is a handsome brown Shepherd who happily and lovingly plays sidekick to his adorable and tiny companion; Cher is a ravishing dark lady beauty of a Chihuahua who is every bit as glamorous as her name would imply. These two head turners broke the mold when it comes to solid gold personalities … and the hits just keep coming! Regardless if you are the funky patched-up bell bottoms type or you have a more silver sequin Bob Mackie gown approach to life, Sonny and Cher will have you screaming for more! Come by Muttville and meet Sonny and Cher today!
HERE'S WHAT THEIR FOSTER HAD TO SAY:
Sonny and Cher are a delightful duo! They are so easy going and enjoy hanging out, going for walks, and spending time together in the backyard. They get along great with both of my dogs and adore my teenagers.
Sonny is Cher's personal Teddy Bear and she loves to snuggle with him on their doggy bed and the feeling is mutual, as Sonny is just as gentle and loving to her.
Sonny and Cher are so special and are looking for that special place to call home.
Sonny is estimated to be 10 years young and 70 pounds
Cher is estimated to be 13 years young and 5 pounds
After being diagnosed with a terminal illness, Sonny & Cher are living life to the fullest in our Hospice Program, under which one of our special hospice families has provided them with a loving home and the very best possible end-of-life care. Please wish Sonny & Cher well!

Would you like to support the dogs in Muttville's Hospice Program through a donation? Click here to donate items, services or funds.