Snickers 1402
Beagle Mix
Male
Medium (20-50 lbs)
Status: Adopted
Beagle Mix
Male
Medium (20-50 lbs)
Status: Adopted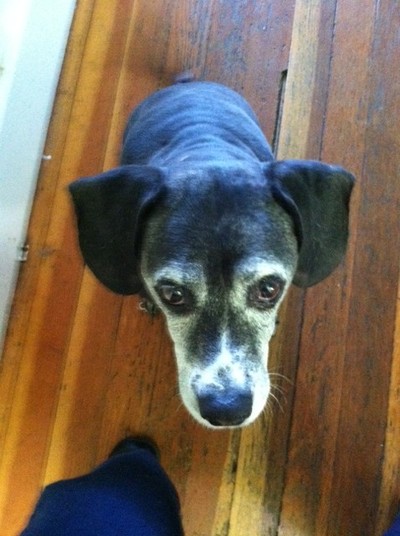 Snickers is so sweet and loving – whoever ends up with him will be very lucky! This 40lb, 9 year old beagle/lab mix thinks he is the perfect size to fit in your lap or sit beside you.
He enjoys leisurely strolls and short jogs.
He is very calm and mellow in the house, he enjoys being near by his people, chewing on bones, and curling up in his bed. He knows how to sit and lie down on command and is working on "Roll-over" and "shake". Like most beagles, Snickers is very focused on following his nose. He will do almost anything for a treat!
He is great with other dogs and all people (from little babies to other seniors like himself). He doesn't ask for much, just food, cuddling, and a warm bed.
Snickers is in good health and doesn't know he's not a young'n. He is potty trained and doesn't bark.
We're delighted to report that Snickers is currently in a loving and caring home. Thanks to all the wonderful friends of Muttville who helped to make this happen.