Shoshone 5003
Border Collie
Female
Large (50-90 lbs)
Status: Adopted
Border Collie
Female
Large (50-90 lbs)
Status: Adopted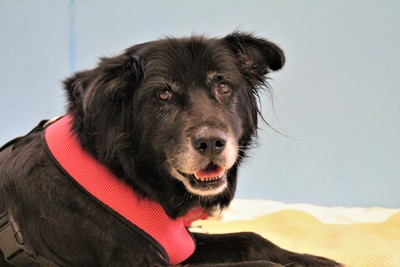 Meet Shoshone! We know you'll fall for this girl from the moment you meet her, just like we have!
This unique looking Collie mix comes to us all the way from Yolo County after being found as a stray. Things are finally looking up for Shoshone, and we think she knows it! She is one happy girl and loves to explore her surroundings with a big smile on her face. Shoshone is great with dogs of all sizes and loves making human friends, too. She is very gentle and sweet, and will make a great addition to any kind of home!
Shoshone is 10 years young and weighs 55 pounds.
Here is what her foster says:
I just picked up Shoshone yesterday and here is what I can tell you: She is an absolute doll! LOL She loved riding in my car and looking out the window. She is quiet and patient. I have a young papillon and 3 cats. My papillon 'yelled' in Shoshone's face and Shosh just wagged her tail and walked on. Then my little pap did a play bow (realizing this dog was no threat to her) and has been following her around. She did not care about the cats at all and my youngest cat was using her wagging tail as a play toy (it was the cutest thing). She appears housebroken. We have a single level house and attached yard and she is enjoying all the new yard smells. She slept through the night…she chose to sleep in our family room so we left her there. I checked on her several times and she seemed to prefer the carpet to her soft bed.
We took her to our local park and she met several dogs there and was fine. Again with the wagging tail! She was more interested in smelling everything :) She also has a very soft mouth. She takes treats so gently.
She loved hanging out with us last night as we watched tv. Again, she is very quiet. My dog is NOT (barks at all the night noises) but it didn't seem to phase Shoshone. She absolutely loves just being petted.
Watch Shoshone enjoying acupuncture and wagging her tail!
We're delighted to report that Shoshone is currently in a loving and caring home. Thanks to all the wonderful friends of Muttville who helped to make this happen.