Sefia 1377
Golden Retriever/Yellow Labrador mix
Female
Large (50-90 lbs)
Status: Adopted
Golden Retriever/Yellow Labrador mix
Female
Large (50-90 lbs)
Status: Adopted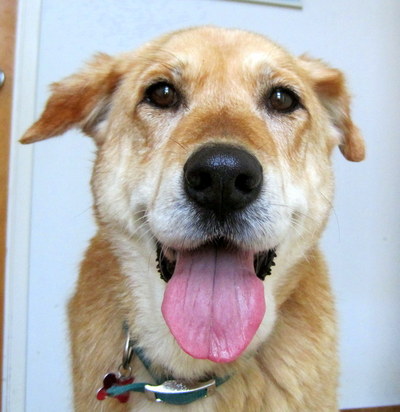 Sefia is a sweetheart Golden Retriever/Yellow Labrador mix who is so happy to be alive. She came to us as a stray from the Merced shelter, a backyard dog covered from nose to tail with fleas. But she is cleaned up now, her tail wags a mile a minute and she loves life.
Good with all dogs, she adores older children and may even be ok with cats. She might be a little much for very small children, we are working with her on her manners. But she is a smartie and a quick learner!
Sefia is overall a strong dog but has some arthritis in her back legs and stairs are a little tough for her. She can do them slowly and this may improve with time. We think she is around 10 years old.
For Sefia, the past is already forgotten and she just looks forward to finally being part of a loving family.
We're delighted to report that Sefia is currently in a loving and caring home. Thanks to all the wonderful friends of Muttville who helped to make this happen.