Samantha 4328 & Sabrina 4329
Lhasa Apso
Female/female
Small (6-20 lbs)
Status: Adopted
Lhasa Apso
Female/female
Small (6-20 lbs)
Status: Adopted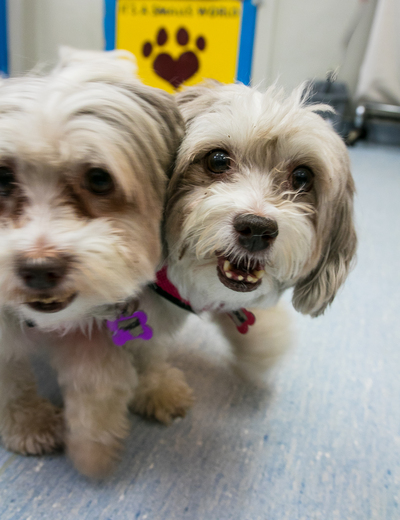 Samantha and Sabrina are two adorable Lhasa Apso sisters who were found together as strays. Lucky for them, we decided to help them find a wonderful forever home where they can spend their golden years together. Both Samantha and Sabrina can be a bit shy when meeting new people, but warm up very quickly when they know you'll give them treats or take them on a walk. They both do great with other dogs, enjoy the outdoors, and love to cuddle. They spend most of their time together curled up on a bed or couch, but also love going for walks outside. These two girls also have hair, not fur, which makes them low-shedding and great for people with allergies. They are the perfect medium sizes to take with your wherever you go. Do you have it in your heart to give these sisters the love they deserve?
Samantha and Sabrina are both about 10 years young and weigh 10-12 pounds each.
Watch these two play with each other, it's so cute!
Watch them playing in their foster home, too cute!
We're delighted to report that Samantha & Sabrina are currently in a loving and caring home. Thanks to all the wonderful friends of Muttville who helped to make this happen.