Rugby 4818
Pug/Beagle Mix
Male
Medium (20-50 lbs)
Status: Adopted
Pug/Beagle Mix
Male
Medium (20-50 lbs)
Status: Adopted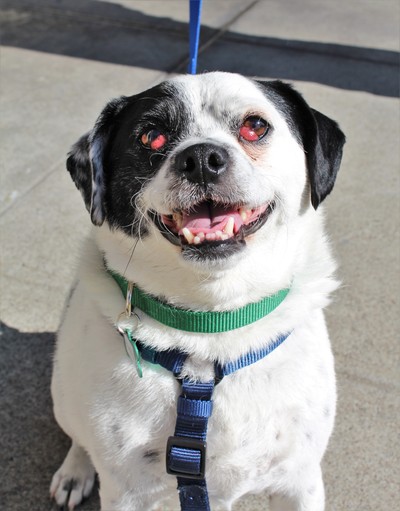 Meet Rugby! This adorable pup comes to us from Contra Costa County where he was found as a stray.
We think this cute guy is a Pug/Beagle/Terrier mix…whatever he is, he's as cute as can be! Rugby loves kids and enjoys meeting new people. He will sit in your lap as long as you let him and is a real social butterfly. He's also perfectly well behaved around other dogs. Rugby would love to be your new best friend and to join you on your adventures or just hang out with you at home. He has a great temperament and personality and we know you'll love him as much as we do!
Here's what his foster has to say about this sweet boy:
Rugby has been the best introduction to fostering I could have asked for! He is outgoing and, unlike our house dog, is completely reliable with people & other dogs. He was definitely someone's beloved pet at one time. I find it hard to believe that he is a senior dog. He has puppy like energy but also likes to sit on the lap of his human, while watching Netflix. Rugby is excellent with other dogs. Even with my more dominant female Saluki in the house, Rugby takes all interactions with her in stride. When he is introduced to new dogs, he is just excited to meet new friends. We have 5 cats in our house. Rugby is basically oblivious to their existence. Rugby is completely house trained. He likes to play fetch with a small size tennis ball. When he feels like it, he has limitless energy playing fetch. Rugby also knows basic commands like sit, stay, shake, etc. He prefers to sleep with you, under the covers even.
Rugby is an energetic boy! Hear all about him from his foster mom!
We're delighted to report that Rugby is currently in a loving and caring home. Thanks to all the wonderful friends of Muttville who helped to make this happen.