Rufus 2
Border Collie/Lab/Terrier mix
Male
Medium (20-50 lbs)
Status: Available from another organization
Border Collie/Lab/Terrier mix
Male
Medium (20-50 lbs)
Status: Available from another organization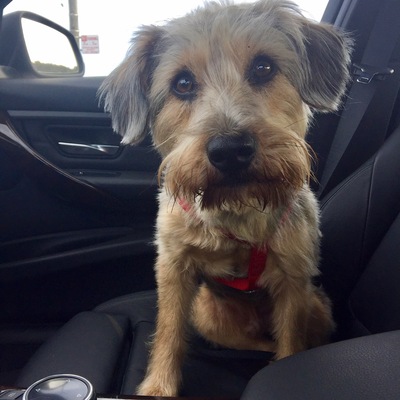 My name is Rufus and I am a four year old Border Collie/Lab/Terrier mix who weighs 27 pounds. I have the most soulful eyes you will ever meet and love people! I am very playful and love to go on long runs. It would be great to find a home where my new owners have some experience with dogs because although I am incredibly smart and learn quickly, I can be a bit stubborn and energetic. I graduated from basic level obedience school and am an expert at 'sit' and 'stay'!
I would like to find a home without cats or older dogs and instead find a situation where I am the only dog or where I have a younger canine companion.
I haven't been around young children, so I can't say for sure how I would be around them. It makes me nervous to be left alone for long periods of time and I would like nothing more than to spend all day by your side!
This is a courtesy listing from another rescue organization. If you are interested in adopting Rufus and want to learn more about him, please contact: Laura Owens lauramichelleowens@gmail.com.
Posted on 09.01.17