Ruckus
Toy Fox Terrier
Male
Small (6-20 lbs)
Status: Available from another organization
Toy Fox Terrier
Male
Small (6-20 lbs)
Status: Available from another organization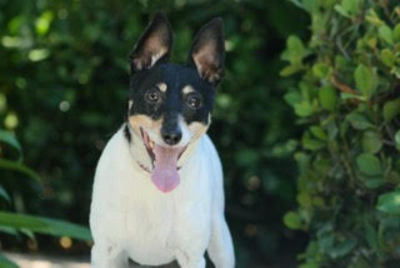 Meet Ruckus!
This sweetheart is full of life and love. He enjoys playtime, especially with his favorite toys, which include a squeaking lamb and an empty, plastic mayonnaise jar. Give him one of these and expect him to be occupied for at least half an hour! Ruckus is a UKC-registered Toy Fox Terrier who is originally from Napa, so he is quite the gentlemen who enjoys the finer things in life such as sun bathing, napping at your feet, and mingling with his canine friends. Ruckus was born on August 8th, 2011, so he just celebrated his 5th birthday, and we're hoping he can celebrate the rest of his "birthday month" with a new family!
He has spent some time befriending all sorts of other animals and people, including his veterinary care staff (he's become a favorite!), two Boston terriers, cats, and even chickens. He did great with everyone! Ruckus is a well-mannered pup who knows his basic commands and how to sit and wait for his meals. He also goes to bed on time, right around 9pm and is ready to start the day about 6am. He is currently crate trained and enjoys having his own area to sleep in at night. Ruckus weighs approximately 13 pounds, is neutered, up-to-date on vaccines, microchipped, and licensed in the city of Turlock.
Recently, Ruckus was brought to the vet and it was discovered that he was diabetic. Now, this sounds scarier than it is, so don't let that discourage you! He is currently getting his levels stable and will need to be on medication to continue to live a happy and healthy life. We can show you the ropes of giving him his medication and any other special care he may need. At five years old, this boy has a lot of pep and life left in him, so we know there is someone out there willing to give him his happily ever after. He takes his medication like a pro and will reward you with plenty of laughs! Ruckus has it all except a forever home. If you think you could give this boy a home or want to learn more about him, please contact us at: sara@montevistavet.com!
This is a courtesy listing from another rescue organization. If you are interested in adopting Ruckus and want to learn more about him, please contact: sara@montevistavet.com.
Posted on 08.19.16